BSP GROUP CEO ROBINSON PAYS COURTESY CALL ON SINPF CEO/ GENERAL MANAGER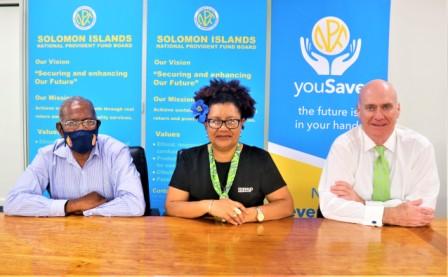 The Bank South Pacific Financial (BSP) Group Chief Executive Officer Mark T. Robinson, accompanied by his Country Manager Ms Sandra Fore, paid a courtesy call on the Solomon Islands National Provident Fund CEO/ General Manager Mike Wate.
The courtesy call is part of Mr Robinson's official engagement overseas since he commenced duties as CEO in March 2023. Solomon Islands was the first regional branch that Mr Robinson visited.

Discussions were held regarding how the BSP Financial Group can support SINPF in providing choices for employers and members of the Fund in various payment channels. These options would leverage BSP's technology to make efficient payments to and from the bank. The discussions also included an update on the Fund's activities and the range of business opportunities in the country.

The SINPF CEO congratulated and thanked the BSP Financial Group Board and management for its financial strength. In the past 15 years BSP has been delivering a consistent annual dividend yield of 6% per annum for our members in addition to the growth in value of the company's shares. Mr Robinson was informed that the Board and management of the SINPF are really pleased in our investments in BSP.

BSP is one of the leading banks in the Pacific. Mr Robinson is optimistic that BSP will continue to deliver under his new leadership combined with his team in BSP Headquarters in Port Moresby and spread across the Pacific region. BSP CEO Robinson reiterated BSP's commitment to grow bigger and stronger in the Solomon Islands and other Pacific Islands countries going forward.

Mr Robinson has a wealth of experience as a senior financial services and global banking executive. He is a Chief Executive Officer with more than 30 years of experience across developed and emerging markets.
Mr Robinson's previous roles include Chief Executive Officer of Commercial Bank International, a publicly listed bank based in the United Arab Emirates; Chief Executive Officer of ANZ Banking Group's operations for Southeast Asia, and prior to that, numerous senior executive roles with Citibank, including in India, Russia, Turkey, and Hungary.

The SINPF Board purchased 2,944,555 shares in BSP on 27 April 2007 worth just over SBD $34million. As of June 30, 2023, our 2,500,001 shares - after selling down 444,554 shares due to our strategic asset allocation to PNG - are now valued at more than SBD$77 million.

The SINPF Board purchased shares in BSP in 2017 for SBD $11.84 per share and today it is now worth SBD $31.14 per share. This represents a growth of more than 163%.

The BSP Financial Group Limited shares is dual listed and traded on the Port Moresby Stock Market Exchange (PGNX) and the Australian Securities Exchange (ASX).